The past year has been another very successful one for this small, all-volunteer organization. A year ago, we started construction on our 18th and 19th schools, in Kodialanida and Nolabougou, which were completed in late winter; our 20th, in N'Dalle, was completed later in the spring.
On my recent visit to Mali, we visited all three schools, and found all were doing well. N'Dalle now has enough classrooms for grades one through nine, but Kodialanida and Nolabougou would like to have enough cement-block classrooms for grades 1 – 6.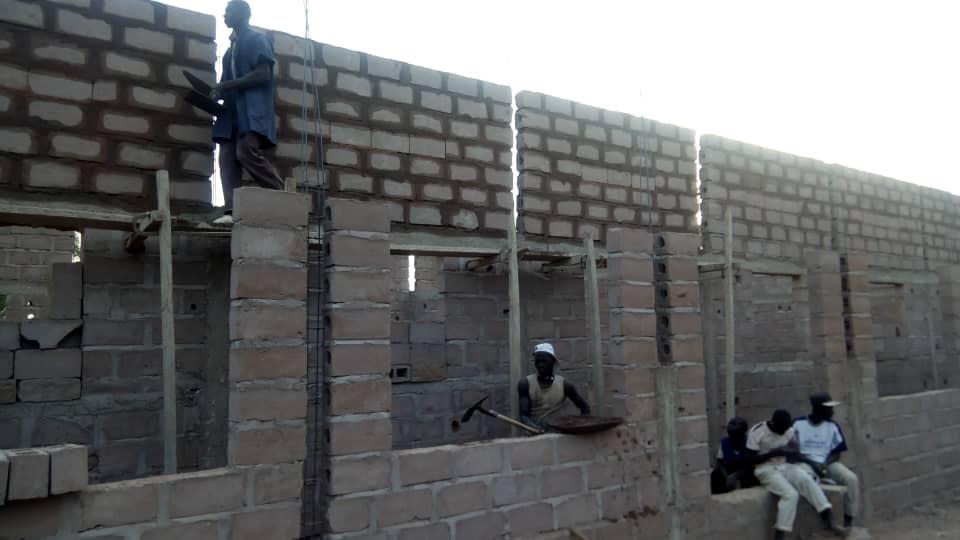 In the community of Danzana, construction of a three-room middle school was well under way. Construction is expected to be completed by late February or early March; the walls are up already; the roof will go on next week.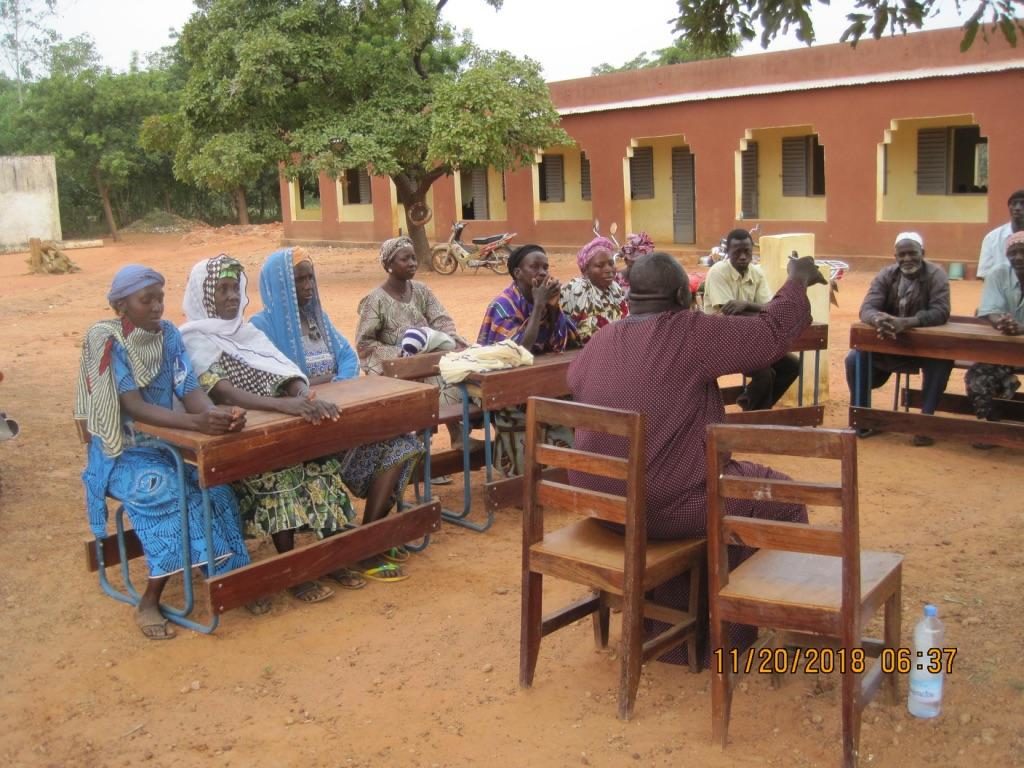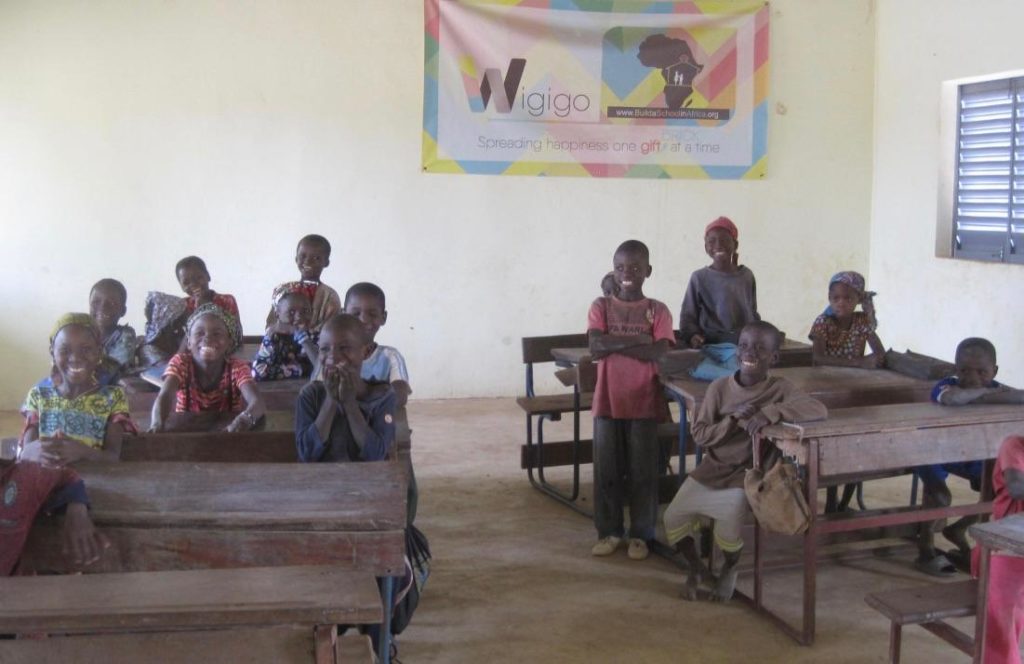 The family that funded three classrooms last year in Kodialanida has also fully funded the school in Danzana, including solar panels to provide lighting for evening studies, adult literacy classes, homework, and community meetings. They also donated $1,000 for classroom supplies: maps and globes for each classroom, dictionaries, both English and French, science charts and posters, teachers' manuals for all subjects, and much more.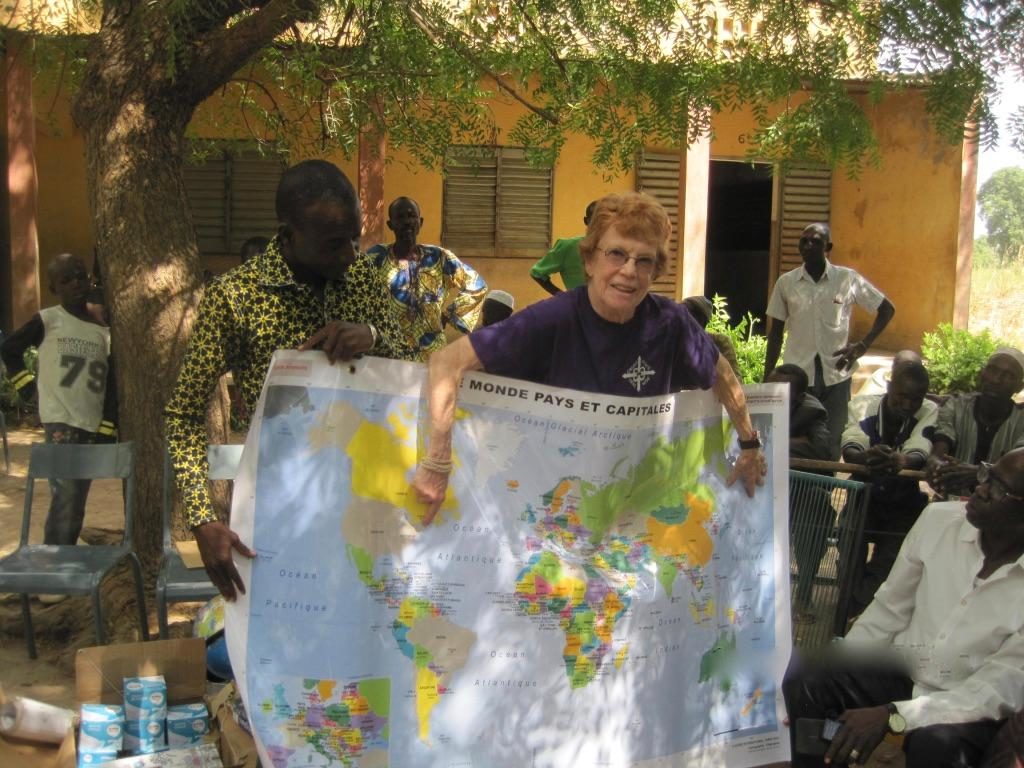 These materials will greatly enrich the children's educational experiences. Some years ago, a teacher showed me the only teaching aid he had to teach world geography — a one-inch world globe on a key chain! In many schools, teachers have to draw science illustrations in colored chalk on the blackboard.
Last summer's rainy season brought unusually heavy rains and disastrous flooding in many communities. In the village of Tabakoro, some of their mud-brick classrooms, already in poor shape, collapsed completely.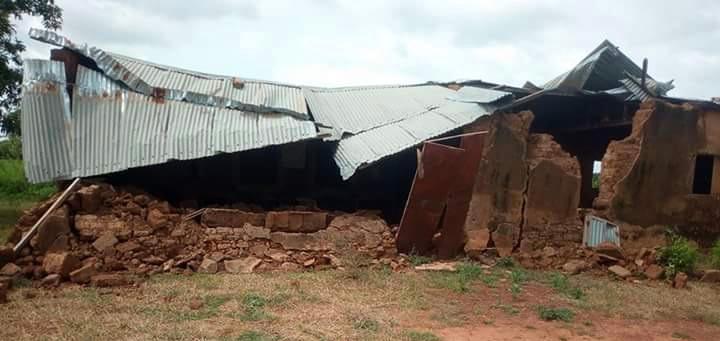 Tabakoro will be our next project; we are currently expecting a generous donation from France that will fund new classrooms there and construction will begin as soon as the funds arrive.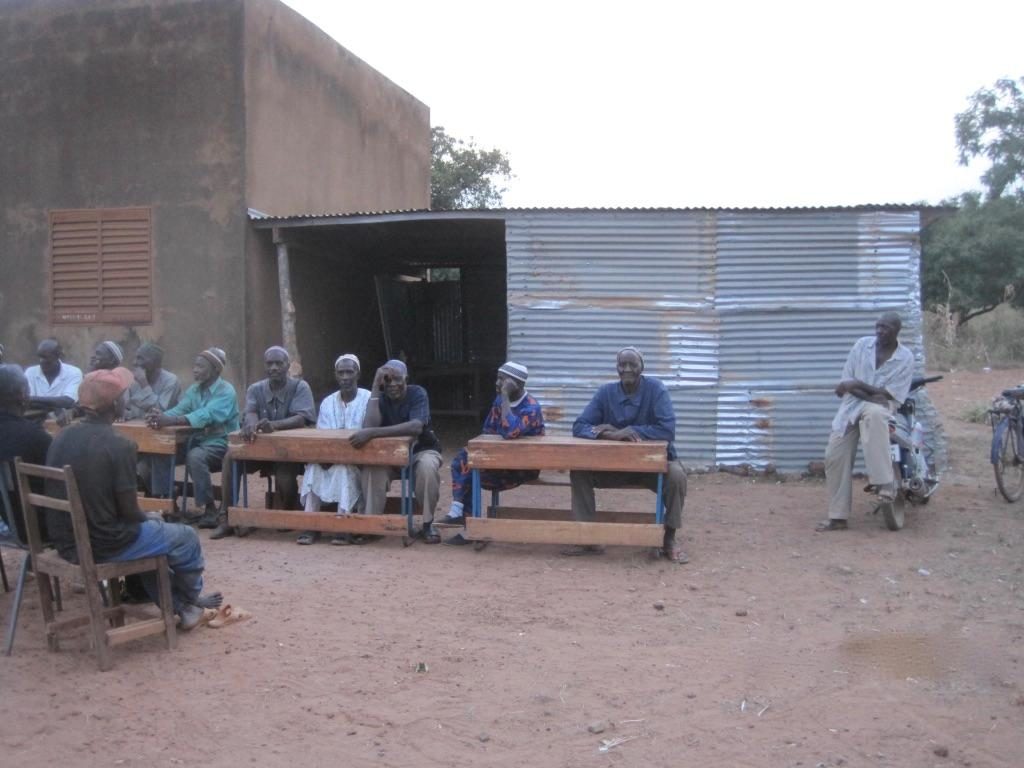 Villagers have already gathered the sand, gravel and foundation stones as part of their "in kind" contributions to the school. As a temporary measure, they have cobbled together a temporary classroom out of the sheet metal roofing salvaged from the original classrooms, and another temporary classroom is being held in a 3-sided vestibule.
We have two additional communities on our waiting list. Zandiela, in the same commune as Danzana, currently has only one mud-brick classroom, used for the youngest students, in grade one. Other children have to walk along a busy paved road to attend classes in the neighboring village of M'Pessoba. They would like to have their own school buildings so children would be able to walk to school safely. There are 719 school-aged children in Zandiela, over 400 of them girls.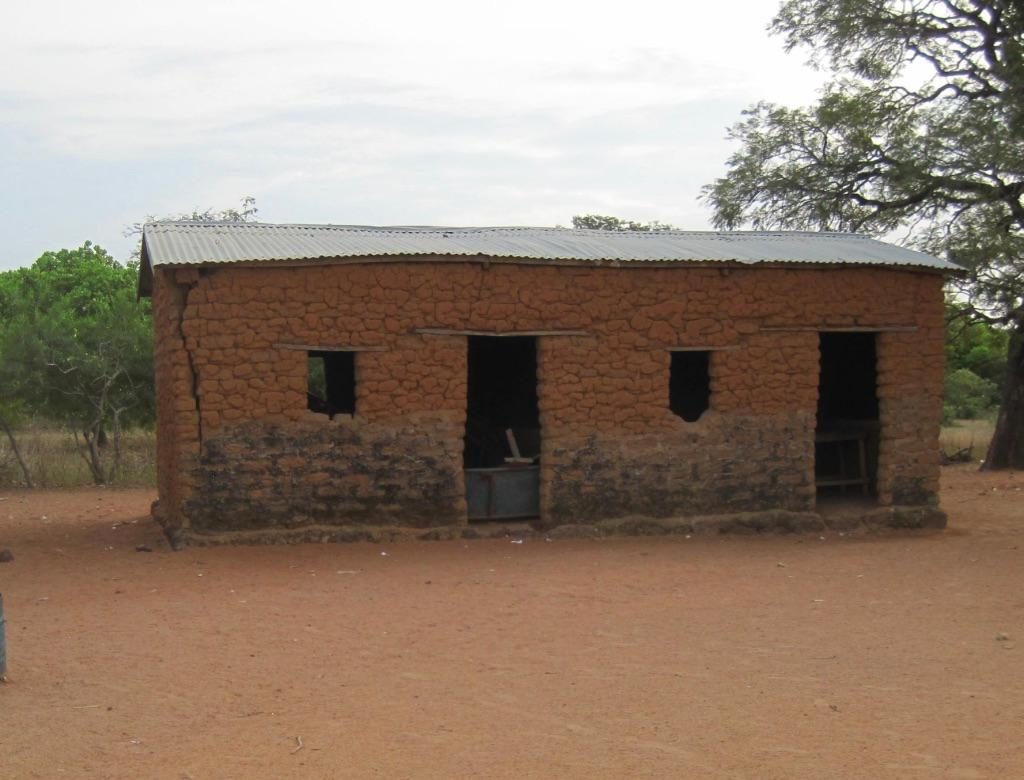 About 5 kilometers (3 miles) beyond N'Dalle, where we built a new school last year, we visited the village of Zangabougou, which has only two mud-brick classrooms, with no doors and windows, leaving them open to the elements.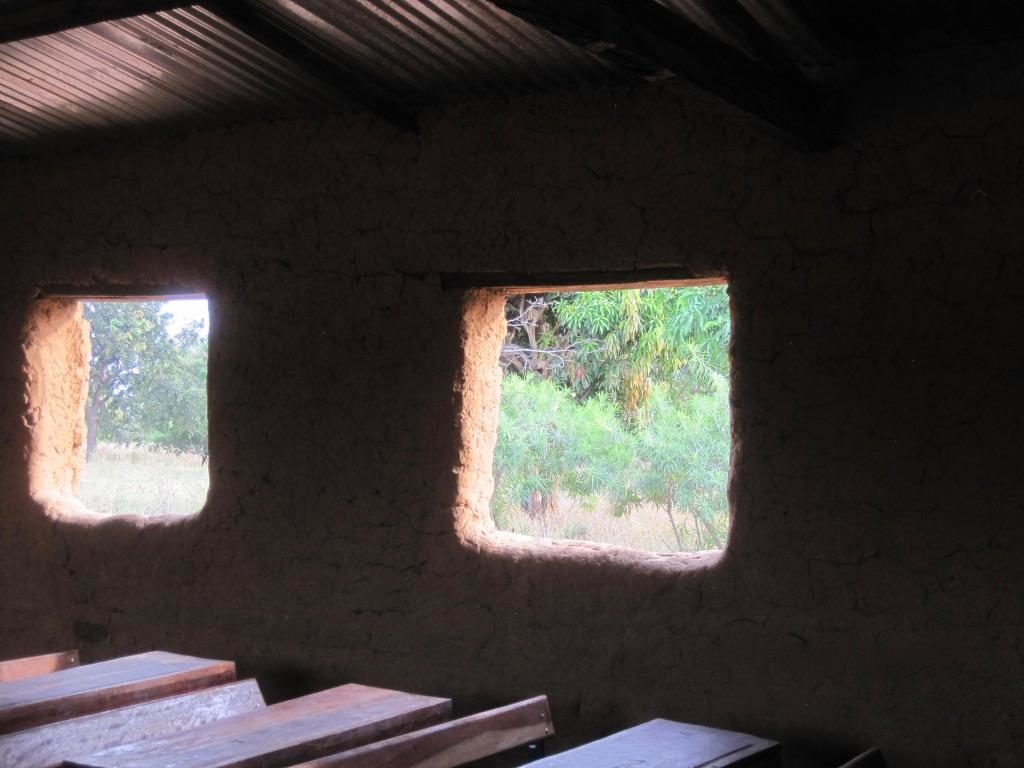 As you can guess from the small size of the windows, the classrooms are very dark inside; it is hard to imagine how difficult it must be to learn effectively in these surroundings.
The number of communities that need new schools seems endless; recognition is due to our Malian partners, Abou Coulibaly and Madou Traore, who work so closely with the villages, their school committees, the village chiefs and elders, and the regional school boards to bring access to education to these under- served rural communities and their children.
Many thanks, and best wishes to our supporters for a joyous holiday season and…
Happy New Year!
Judy Lorimer, Madou Traore, Abou Coulibaly, and Matt Heberger